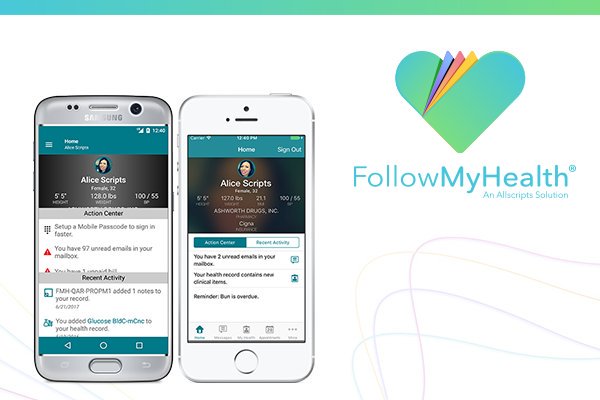 ACH is pleased to announce we have switched to a new patient portal as of February 20, 2018. Our new patient portal is hosted by Allscripts and it is called FollowMyHealth. You may already have a FollowMyHealth patient portal account if one of your physicians uses this portal.
The exciting thing about FollowMyHealth is that it has a free app, which will allow you to access your ACH portal account on your mobile phone!
Please note for the first few months, your hospital
results and data will only be added to the FollowMyHealth portal in the form of Continuity of Care documents. Look for a hyperlink in this document to quickly navigate to your testing results. In a few months, additional features and functionality will be implemented, including a list of your results without having to open the Continuity of Care file. We are confident that when the portal transition is fully complete you will love our new portal!
If you previously had a Patient Portal with ACH, you should have received an email invitation to the new portal on February 20, 2018. If you did not receive an email from FollowMyHealth, please contact the Patient Portal Helpdesk to request a new invitation. This invitation email contains a link to create your FollowMyHealth account. We encourage you to do this right away to decrease the chance you can't find the account creation information later when you want to see your information on the portal.
If you encounter any issue with account creation or have any questions following our February 20 transition to FollowMyHealth, please contact the ACH Patient Portal Helpdesk support team at (315) 567-0774 or by emailing patientportalhelp@auburnhospital.org. Hours of service are Monday – Friday, 8 AM – 4 PM EST, excluding US national holidays.
Please note following our patient portal transition to FollowMyHealth on February 20, 2018 there will be no updates to your current patient portal hosted by Relay Health. However, your historical data will remain there for you to access.
We look forward to partnering with you and FollowMyHealth to support quality patient care. Thank you for choosing Auburn Community Hospital for your healthcare needs!
Sincerely,
Auburn Community Hospital