The patient portal is a secure online website that allows patients convenient, 24-hour access to their personal health information from anywhere with an internet connection (computer, tablet or phone).
Please do not use either patient portal to send messages requiring urgent attention as responses may be delayed. For urgent medical matters, contact your physician's office or visit an urgent care clinic or emergency room.
Please review the information below to determine which patient portal to use.
Auburn Community Hospital, Finger Lakes Medical Urgent Care Center and Urgent Care of Skaneateles offer a secure patient portal with easy access to your healthcare information from hospital visits and tests from your computer, tablet or phone.
FollowMyHealth has a free app, which will allow you to access your ACH portal account on your mobile phone. Please use the icons below to download the mobile app.
If you would like to register for the hospital patient portal or have any questions about the patient portal, please call the Auburn Community Hospital Patient Portal Helpdesk at 315-567-0774.
---
Auburn Memorial Medical Services is a group of provider practices that are affiliated with the hospital. Their separate patient portal may be accessed to help you easily and securely communicate with your care team, request prescription renewals, and access your healthcare information from your computer, tablet or phone.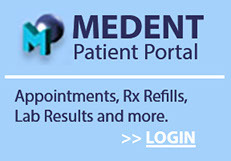 Reset your MEDENT Portal login
If you encounter any issues with account creation or have questions, please contact your physician's office.