The 9th Annual Auburn Community Hospital Gala took place on Saturday evening, January 26, 2019 at the Emerson Park Pavilion. The event is traditionally organized by the Auburn Community Hospital Foundation and was Co-Chaired by
Elizabeth Koenig and Shannon Sherburne. Over 350 guests attended the event which was billed "An Evening in Paris." According to Scott Berlucchi, President & CEO of the hospital, "the Gala was the largest ever." Berlucchi stated that "the overwhelming support by our community is a testament to the physicians, nurses and all of the staff at the hospital for providing amazing care for the people in this community." Money raised at the event will be dedicated to establishing a Women's Health Center at Auburn Community Hospital. This year's Gala honored the members of the OB/GYN, Maternity and Women's Health Team for the tremendous progress they have made in addressing women's health needs in the community.
Auburn Community Hospital is the largest employer in Cayuga County, with a workforce of over 1,000 employees. The Hospital has a combined medical staff of more than 200 medical professionals and multiple primary care sites. Today, ACH is a Health Care Delivery System that includes the Hospital, an 80-bed Long Term Care and Rehabilitation Center, 3 Urgent Care Centers, as well as Primary Care and Specialty Care Services.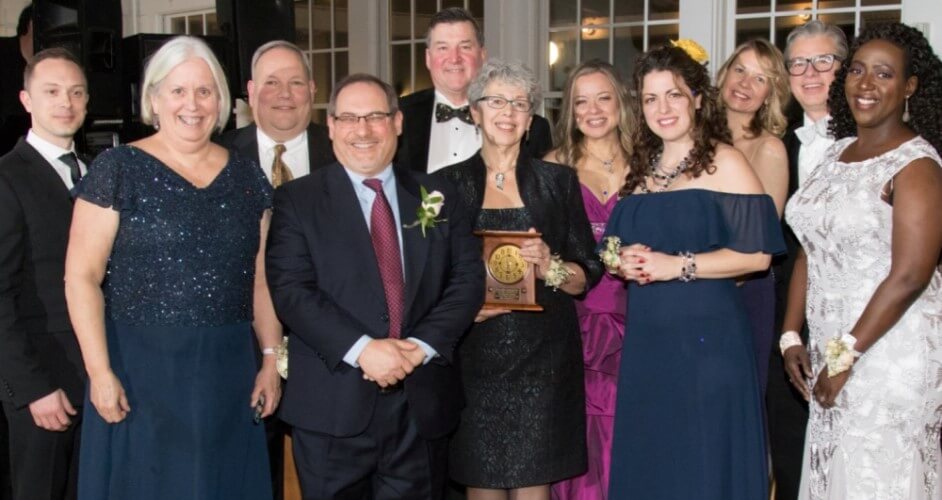 Left to right, 1st row – Mary Lou Chappell, NP, CNM, Donald Calzolaio, MD, Marjorie Tracy, CNM, Hilary Marsfelder-Clark, CNM, Tanya Paul, MD, left to right, 2nd Row – Christopher Rheaume, Chair, ACH Foundation, Anthony Franceschelli, Chair, ACH Board of Trustees, Scott Berlucchi, President & CEO, ACH, Jennifer Seymour, CNM, Jessica Allison, CM, Loren Van Riper MD, FACOG – Chief of OB/GYN Services
(Missing from photo) –
Jennifer Ambrose, RN, BS, IBCLC, Susan Bobb, RN Director of Women's Services