Maria Iannolo, MD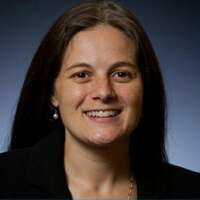 Specialty: Orthopedic Surgery, Orthopedics
Primary
Location: Auburn Orthopaedic Specialists
Education: Georgetown University School of Medicine, Washington D.C.
Fellowship: Orthopedic Trauma, University of Rochester, Rochester, NY
Residency: Orthopedic Surgery, SUNY Upstate Medical University, Syracuse, NY
Board
Certifications: American Board of Orthopedic Surgery
Location
Address: Auburn Orthopaedic Specialists
77 Nelson Street, Suite 120
Auburn, NY 13021
Phone: 315-567-0750
Office Hours: Monday - Friday, 8:00 am - 4:00 pm
Biography
Dr. Iannolo is an orthopedic trauma surgeon who treats fractures in patients of all ages, with a particular interest in pelvic fractures and complex peri-articular fractures. She also specializes in treating fractures that heal incorrectly, with training in post-traumatic limb reconstruction and hip and knee arthroplasty. In addition, Dr. Iannolo has an interest in the treatment and prevention of fragility fractures through early detection and management of osteoporosis.
BACK TO FIND A DOCTOR