Auburn Internal Medicine & Pediatrics
Welcome to Auburn Internal Medicine & Pediatrics! We have been serving Auburn and the surrounding communities since 1999.
Our physicians are trained in both Internal Medicine and Pediatrics. The training for this combined specialty is offered by just a few of our nation's top medical centers. Physicians who complete this program are dedicated to the highest standards of care for patients of all ages. Each physician is board certified by both the American Board of Pediatrics and the American Board of Internal Medicine. As such, each of our doctors is a fully trained pediatrician, and fully trained internal medicine physician. In addition to our physicians, we also have a highly qualified Certified Physician Assistant to provide excellent care for our patients.
Our goal is to provide compassionate care of the highest quality for our patients of all ages: from birth, through the school years, and well beyond.
We hope that our family can care for your family!
Our Team
Emma Dizon, NP
| | |
| --- | --- |
| Dr. Graney | Dr. McSwain |
| Dr. Sojka | Emma Dizon, NP |
Our Services
Our practice cares for patients of all ages, from newborns through adults. We offer:
Routine health maintenance examinations and screening for children and adults. These visits have a strong emphasis on prevention. We carefully track routine immunizations of all ages.
Acute visits for illnesses and new problems. In most cases, our patients see their own physician for these sick visits, and are seen on the same day as the patient calls.
Follow up and management of chronic pediatric and adult medical problems.
Appropriate referrals to subspecialty care, with emphasis on strong communication between our office and the consultants.
Free prenatal interviews for expectant parents, in order to "get to know" their potential new pediatrician. These interviews also provide an opportunity for expectant parents to get many questions answered regarding this exciting time for their family.
New flu clinic for existing patients throughout the week.
Electronic medical records, with a state of the art system (run by a highly successful company, MEDENT, headquartered in Auburn).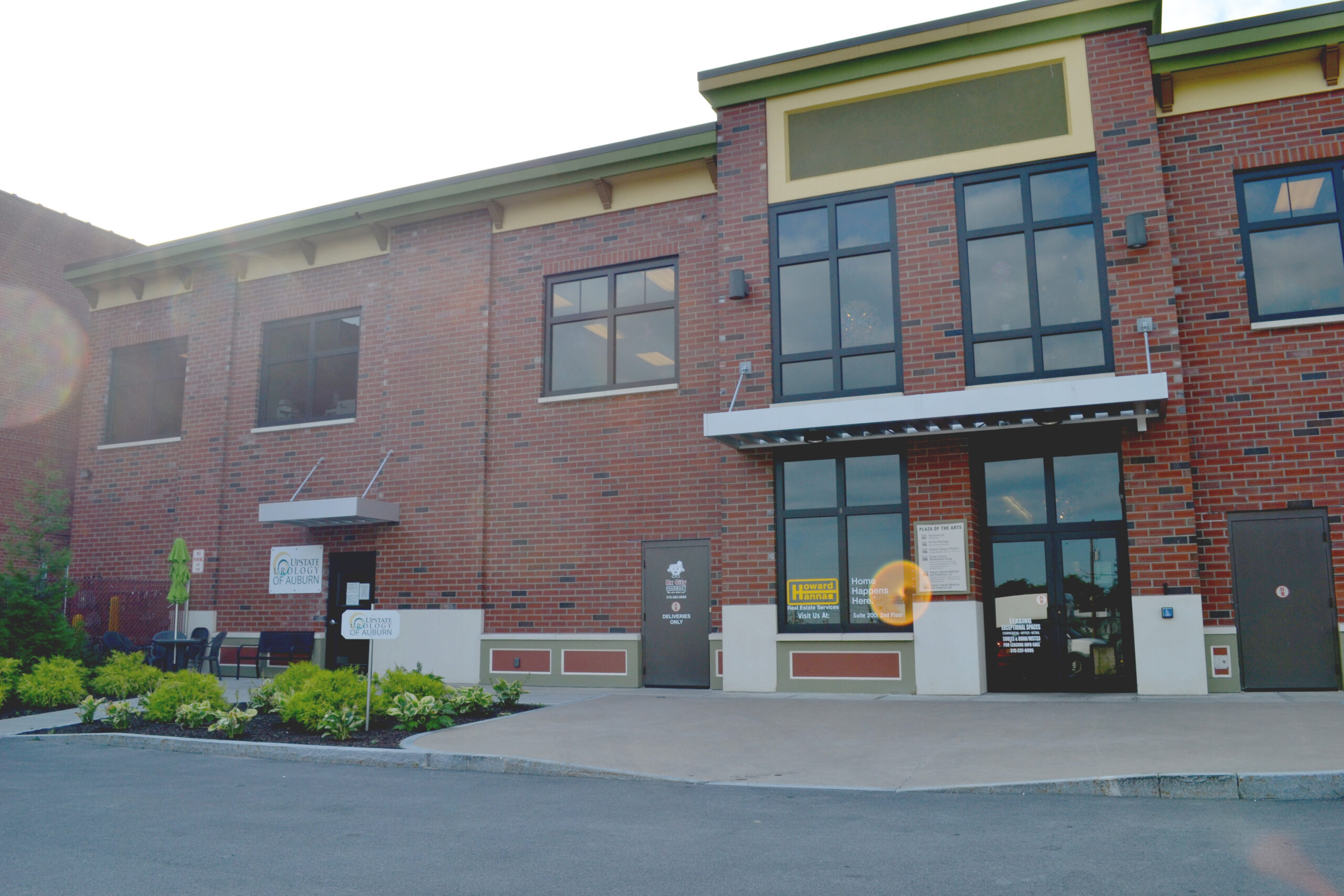 Our Building
Our office is located in downtown Auburn at the beautiful Plaza of the Arts building. The address is 161 Genesee St, located directly across the street from the Cayuga County office building. Our office is on the second floor, with elevator access. There is a large free parking lot behind the building for all of our patients, including handicap parking next to the building. Wheelchairs are located in the rear stairwell alcove at the back entrance to the building.
---
Office Policy
New patients
We are currently only taking newborns as new patients.
We ask that you provide the following information: Name, address, date of birth, insurance provider, insurance identification number, responsible party (if different from the patient), and appointment time preference.
We ask that you obtain any and all pertinent medical records from your previous physician(s) prior to your appointment with us.
Please arrive early for your appointment, bring your insurance card, a list of medications (or the medicine themselves) and all billing information.
Existing patients
Same day sick visits are available Monday through Friday and are booked on a first available basis.
Saturday urgent sick visits are available 9:00 am to 12:00 pm by calling the office at 315-255-0947.
Late hour visits are available for acute complaints only, 5:00 pm to 7:00 pm Monday through Thursday beginning in October.
Flu clinic visits are available from 9:30 am to 3:30 pm, Monday through Friday, and on select Saturdays. Please call our office to learn more.
For your annual physical and routine follow-up visits, please schedule at the office following your consultation with your physician.
Please bring your insurance card with you. The medical reception staff will verify demographic information and insurance coverage with each visit.
Our reception staff will assist you with referrals to specialists or for additional studies as prescribed by your physician.
Canceling and changing an appointment  
Please call at least 24 hours in advance if you are unable to make your appointment. This courtesy will allow us to utilize this appointment time for someone else. Please provide your name, date of birth, physician name, and appointment time to ensure accurate rescheduling.
We will make every effort possible to reschedule you at the earliest convenient time.
Failure to provide the 24 hours advance notice or repetitive no shows for appointments may result in discharge from the practice.
Urgent Care
If you have a life threatening emergency, call 911. For your safety, we ask that you not "walk in" to the office without an appointment.
During regular office hours call 315-255-0947 and briefly explain your emergency. You will be connected to available nursing staff for consultation with the doctor.
At night or on weekends, call 315-255-0947 and our answering service will contact the provider on call. If you do not receive a call back in 20 minutes, please call the service again.